Clickmagick is an online software application that allows its users to track, optimize and manage their online marketing campaigns. It is a web-based tool that provides users with real-time data and insights into their marketing efforts, allowing them to make better informed decisions about where to allocate their resources. Clickmagick is an essential tool for any online marketer looking to maximize their return on investment. With ClickMagick you can track email campaigns, ad campaigns, sales funnel processes and much more. In this ClickMagick review we will look at the most important features of this tool.
What ClickMagick can do!
Bot & Click Fraud Protection
Track & Optimize The Entire Sales Funnel
Laser-focused Goal & Sales tracking
Cross-Device Tracking
Phone & Offline Sales Tracking
Up to date and 100% accurate cost Update
Instant Visitor history
Zapier Integration
What is ClickMagick?
If you are advertising online and have a sales page or sales funnel, you need to know where your traffic is coming from. If you are not tracking this information, you are shooting in the dark and wasting a lot of money.
ClickMagick is a powerful, web-based tracking software that you can use to track where your leads and sales are coming from, know your exact ROI, how much you spend on ads to make a conversion.
You are probably asking, hey I already have Google Analytics, what can ClickMagick possible do that Google Analytics cannot?
Well, the two are not quite the same.
ClickMagick is essentially a click tracking and conversion attribution tool that you can use to track dynamic affiliate links, links in newsletters, add automatic bot filtering to your ads and so on, While Google Analytics is a real-time analytics software for your website or app.
With ClickMagick, however, we can track every link that leads to our pages, monitor them and better understand what visitors do on your page when they come from a particular link. Do they make a purchase? Do they opt in? Do they leave without any meaningful action? What keywords they used? etc. These are important metrics that can help you improve your conversion rate or lower ad costs thus increasing your ROI.
ClickMagick collects an insane amount of data and present them to you in an easily understandable way.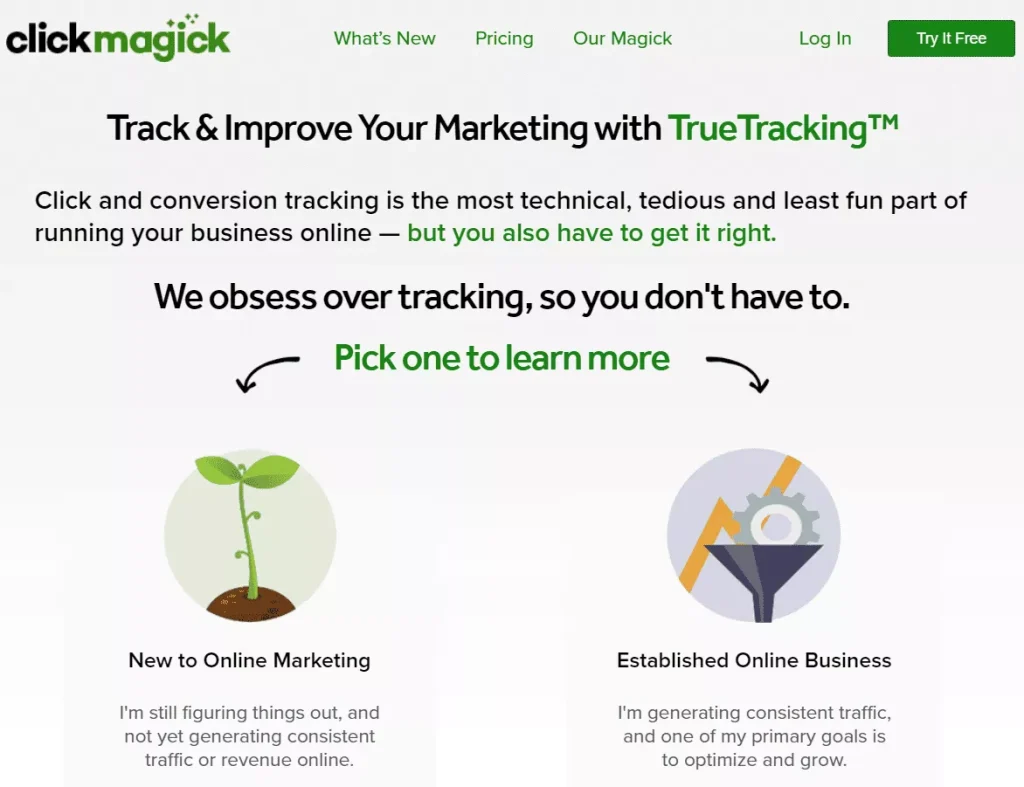 ClickMagick features: Cross-Device Tracking
It's possible that a visitor sees your ad or sales page while browsing his smartphone on his way to work and a few days later makes a purchase from his desktop computer. With ClickMagick you can be sure that your data remains 100% accurate.
Do you advertise on multiple ad networks? If yes, what happens if a user clicks on your Microsoft ad, but doesn't take any action, then a few days later they come across one of your Facebook ads and make a purchase? Both ad platform will record a sale. ClickMagick can handle this scenario too and make sure to show accurate conversions.
With accurate data you can easily identify losing ads or poorly performing sales pages.
ClickMagick features: Track Anything
With ClickMagick you can track any events, goals, activities you can think of. You can track links in emails or clicks on certain buttons. You can even track offline conversions such as phone calls.
ClickMagick features: Affiliate Network Integrations
This software comes integrated with 100+ affiliate networks making it an ideal choice for affiliate marketing experts.
With this feature you can accurately track your affiliate sales even if you don't have any landing pages. You can directly promote affiliate offers and still be able to track sales and conversions. With Postback server-to-server tracking no sales will be missed. This gives you a huge advantage over your competitors.
You can add tracking pixels and retargeting codes to any affiliate link. Just monitor which affiliate links your visitors clicked, then retarget them with similar offers.
Automatic Bot Filtering
PPC advertisement is a great way to attract targeted traffic to your pages. But it is possible that most of your clicks come from bots or people who has no intention of making a purchase on your website. This is called click fraud. This results in you spending more money on ads than you should.
ClickMagick comes with an awesome feature called "Click Shield". You can use it to create rules and determine the types of click behavior you accept. The result: you spend less for the same number of conversions.
Click Rotators
Click "rotators" are a traffic delivery system that lets you distribute visitors to as many different URLs with exactly the kind of rotation schedule and formatting preference you need.
This feature is mainly used by email marketers or CPA offers.
ClickMagick comes with four types of click rotators giving you the ability to distribute traffic based on time, location and device.
ClickMagick Pricing
This service comes with three different subscription plan.