Affiliate marketing is one of the few industries in the world that seems to be fairly recession proof. You can find merchants in almost every niche, and the possibilities for people entering the industry are endless. But what exactly is affiliate marketing? In many ways, affiliate marketing is a lot like sales. You choose one or more merchants to affiliate with, and promote their products or services via your website, social media, or other marketing methods. When a customer purchases a product using your affiliate link or voucher code, the purchase is tracked, and you earn a commission.
Here is a little visual aid how the process works.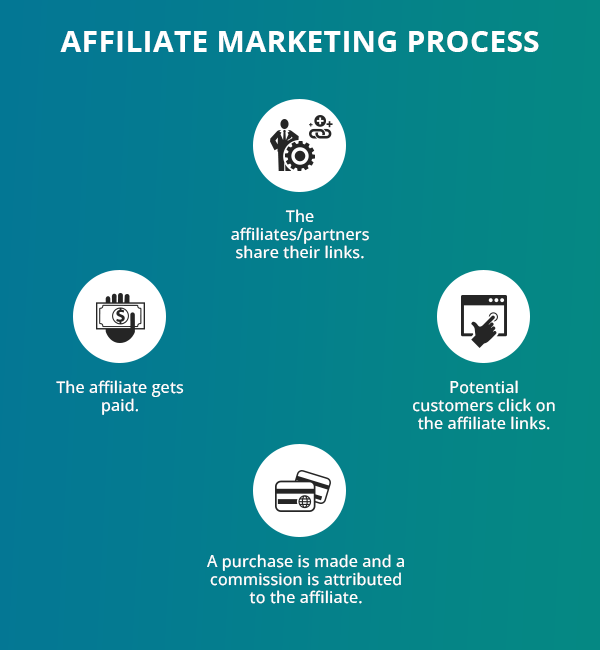 Is It Too Late To Try Affiliate Marketing?
Influencer Marketing Hub expects, based on current trends, that the affiliate marketing industry in the USA will continue to grow steadily over the next few years, and will be worth more than $15.7 billion by 2024. Similar trends can be expected in Europe, and growth will be even more rapid in emerging markets. Many niches are saturated, but there are new products and new merchants entering the market every day. In addition, there are new promotion opportunities such as social media, location based marketing, and cross-device tracking technologies which offer new affiliates the chance to get ahead. If you are creative and well motivated, you can compete as a newcomer.
Why Become an Affiliate Marketer?
There are numerous reasons why it is worth getting involved with affiliate marketing. This is not a regular job. You can spend as much time as you want on it. You can also do it beside your 9 to 5 job and earn some passive income and you can work from home.
It's also easy to start because you don't need too much initial investment. You can create a website easily for free or hire a developer from a freelance website to create a basic WordPress blog. A domain name and hosting expenses are also negligible.
Another advantage of this is that you don't need to handle customer support, complaints, shipping and all these kinds of things that take up a lot of time and resources.
How much you can earn really depends on you. How much time you put in, how much you improve your skills as a writer or reviewer. It all boils down to your commitment. The more you work, the better job you do, the more you can earn.
Getting Started With Affiliate Marketing
It is easy to get started as an affiliate. The first thing you need to do is choose a niche. Pick something that you will enjoy writing about, and that you know well, so that you can choose good products to promote. Once you have decided on your niche, you can look for merchants that offer affiliate programs.
When you're new to the affiliate industry, it's a good idea to start by joining affiliate networks. These networks have a large database of merchants covering almost every niche imaginable. It is easier to get accepted to an affiliate program when you are a member of a network, and the networks provide easy-to-use tracking tools so that you can manage your programs more easily. Once you have a successful site up and running you can try contacting other merchants directly to join programs that are not a part of your network.
The key to success in the affiliate marketing industry is to have a site that gets lots of targeted traffic. To get traffic, you need to offer something of interest to your visitors. That could be a useful service, such as price comparison or voucher codes (complete with affiliate links to the merchant in question), or tutorials, reviews and other content. Whatever approach you decide to take, build up a database of good content before you start trying to monetize your website.
If your website is new and don't have too much traffic yet, you may want to consider spending some money on advertisements, otherwise it will be very difficult to get targeted traffic and make sales. If this is the case, you need to carefully select the product or service that you promote. You need a product that is not too cheap, and the merchant is willing to pay high commission or recurring commission. If the product is cheap or the commission is not high enough, you may not be able to break profit.
You may also consider creating YouTube videos to show and promote the product or service. You can leave your affiliate link in the video description and if someone clicks on it and makes a purchase, you'll get paid. Don't forget to create quality, informative content.
Recurring Affiliate Programs
Recently, many companies started offering recurring affiliate programs. These companies usually offer services with monthly or annual subscription fees. What does it mean? It means that if a customer keeps paying the company the monthly or annual subscription fees, you will get your commission each month or year. This is a great way to earn continuous passive income.
Affiliate Programs Worth Promoting
So how can you find these recurring affiliate programs? Here, I will list some of the most profitable ones.
GetResponse is a powerful email marketing platform that you can use to send out newsletters, create websites, landing pages, sales funnels etc. They offer 33% recurring commission every month after each referred client.
GetResponse has a very flexible pricing structure. Mostly it's based on how many newsletter subscribers you have, and also what features you of the platform you want to use. But generally a customer with 5000 subscribers pays around $40 a month. This means you get $13,2 commission each month. If the customer upgrades his/her plan, your commission will also increase. Click here to check out GetResponse!
ClickMagick is a link tracking tool that helps you optimize your pay per click ads by identifying where your most profitable clicks are coming from.
ClickMagick offers 35% recurring commission. Generally, people subscribe to their "Standard" plan which, at the moment costs about $77. After each sale you'd be able to make $26.95 each month.
Cloudways
Cloudways is a user-friendly, managed cloud hosting provider that allows you to quickly create servers on DigitalOcean, AWS, Google Cloud, or Linode.
Cloudways offer two types of affiliate programs, with performance-based (one-time) commission that allows you to earn up to $125 per sale, and a hybrid solution with $30 per sale + 7% lifetime commission.
SEO PowerSuite
SEO PowerSuite is a desktop software that comes with various SEO tools. They offer 33% commission, including renewals. Their average sale is around $197 so you could make $65 after each referred client.
So as you can see recurring affiliate programs can be extremely profitable.
The Long Term Approach to Affiliate Marketing
Growing your first site will take a while, but once you have figured out what sort of content your visitors like, and how best to design your pages to get lots of conversions (visitors that click your affiliate link and go on to spend money), you can reinvest your profits into better marketing, or launch new sites and grow them more quickly thanks to your knowledge of the industry. The beauty of the affiliate marketing industry is that marketing scales well, and your earning potential is limited only by the amount of time and effort you are willing to put into research and experimentation.